Kelly Meding
About The Author ME: Ahem. *clears throat* In an effort to bypass the traditional list of things you may be curious about me, I've decided to allow the heroine of my upcoming novel THREE DAYS TO D...
About The Author

ME: Ahem. *clears throat* In an effort to bypass the traditional list of things you may be curious about me, I've decided to allow the heroine of my upcoming novel THREE DAYS TO DEAD to conduct a brief interview. Evangeline "Evy" Stone is a former paranormal bounty hunter who is resurrected into a new, somewhat clumsy body with only three days—

EVY: Didn't they read all that on the front page of this website?

ME: Well, probably. I was trying to give you an intro.

EVY: This isn't my interview. Introduce yourself.

ME: But that's what the interview is for. I can answer questions, but I kind at suck public speaking and making stuff up off the top of my head.

EVY: Evidently.

ME: What?

EVY: Never mind. Okay, so I'm Evy Stone, here talking with my author and creator, Kelly Meding. So why don't we start with A/S/L information?

ME: With what?

EVY: Age, sex, location.

ME: Female, duh. I live in a little town in Eastern Shore Maryland, about ten minutes from Ocean City, with my best friend and one slightly neurotic cat.

EVY: Your best friend is a neurotic cat?

ME: No, my cat is neurotic.

EVY: That's what I said.

ME: Evy…

EVY: Moving on, you forgot age.

ME: Over twenty-one.

EVY: Fair enough. How long have you been a writer?

ME: Since I was twelve. I wrote my first, horrible attempt at a YA novel back in seventh grade, and I'm forever grateful to a former friend who destroyed it in a fit of adolescent anger. Saves my eyes from bleeding. I moved onto writing screenplays in high school and college, and then went back to prose during my last two years in college.

EVY: Where'd you go and what'd you study?

ME: I have a Bachelor of Arts in Communication, Film Studies Concentration, from Messiah College.

EVY: Never heard of it.

ME: The degree or the school?

*rattling* *mic feedback*

EVY: So my life is all work, work, work. Does that mean your life is write, write, write?

ME: A good portion of my free time, yes. But I also hold down a part-time job at a major home furnishing retailer (I love decorating and design), which helps pay the bills. When I'm not writing or working, I can be found reading a good book, making jewelry, painting ceramics, playing with my cat, or watching movies.

EVY: Okay, good, you're giving me something to work with here. Five movies everyone should see?

ME: The Secret of NIMH, L.A. Confidential, Band of Brothers, A Nightmare on Elm Street, and The Dark Knight.

EVY: Jeez, eclectic much? How about books?

ME: Five books? Um…Watership Down, by Richard Adams; The Story Girl, by LM Montgomery; The Stand, by Stephen King; the Little House on the Prairie series; anything by Gena Showalter (she's awesome!).

EVY: Any of those books have characters who actually get to . You are no fun.

ME: Any other questions for me?

EVY: I can think of a few, but they'd probably get deleted, too.

ME: Very likely. Well, that's that. Say good night, Gracie.

EVY: Who the hell's Gracie?

ME: *sighs
pokaż więcej
As Lie the Dead
Evangeline Stone, a rogue bounty hunter, never asked for a world divided between darkness and light . . . . . . or the power to die and live again in someone else's borrowed body. After a murder p...
czytelników:
4
| opinie:
0
| ocena:
0
(0 głosów)

Carniepunk
Rachel Caine, Rob Thurman, Jennifer Estep, Kevin Hearne, Seanan McGuire, Kelly Meding
0
(0 ocen i 0 opinii)
Carniepunk
Come one, come all! The Carniepunk Midway promises you every thrill and chill a traveling carnival can provide. But fear not! Urban fantasy's biggest stars are here to guide you through this strange a...
czytelników:
13
| opinie:
0
| ocena:
0
(0 głosów)
Three Days to Dead
They'll never see her coming. . . . When Evangeline Stone wakes up naked and bruised on a cold slab at the morgue—in a stranger's body, with no memory of who she is and how she got there—her trouble...
czytelników:
8
| opinie:
0
| ocena:
7
(2 głosy)
Wywiad z autorem
Chciałbyś zadać pytanie swojemu ulubionemu autorowi?
Dołącz do grupy "
Rozmowy z autorami
" i zaproponuj pytania, my zorganizujemy wywiad.
Dyskusje o autorze
Przeczytaj także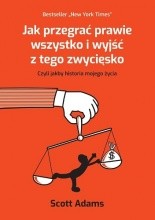 Przegrać, by wygrać
zobacz kolejne

Tylu naszych czytelników chce przeczytać książki tego autora.
Tyle osób przeczytało książkę tego autora.
Tyle książek tego autora znajduje się w naszej bazie.
Fani autora (0)
Lista jest pusta